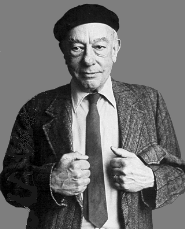 home

"Any statement can be held true come what may, if we make drastic enough adjustments elsewhere in the system."

Willard Van Orman Quine
Carnap and Quine
According to Quine (logical) empirism rests on two dogmas: (i) the distinction between analytic and synthetic propositions and (ii) the verification condition. This is argued in "Two Dogmas of Empirism" (Phil.Rev. 1951, 60(1):20-43) (See here for a German translation.). As the name "dogma" suggests, he questions their supportability.
In a nutshell he promotes a "holistic view", i.e. "that our statements about the external world face the tribunal of sense experience not individually but only as a corporate body." (Quine 1951, "The Verification Theory and Reductionism"). This is directed against the second dogma, but turns imediately against the first. He concludes:
"Furthermore it becomes folly to seek a boundary between synthetic statements, which hold contingently on experience, and analytic statements, which hold come what may. Any statement can be held true come what may, if we make drastic enough adjustments elsewhere in the system. Even a statement very close to the periphery can be held true in the face of recalcitrant experience by pleading hallucination or by amending certain statements of the kind called logical laws. Conversely, by the same token, no statement is immune to revision. Revision even of the logical law of the excluded middle has been proposed as a means of simplifying quantum mechanics."
This piece by David Chalmers contains a detailed critique of the "two dogmas" paper. In "Where things now stand with the analytic-synthetic distinction" (Synthese 28, 1974) Katz takes an interesting look on this discussion. "Carnap and logical truth" is an other piece by Quine on Carnap's convictions.
---
Quine on the web